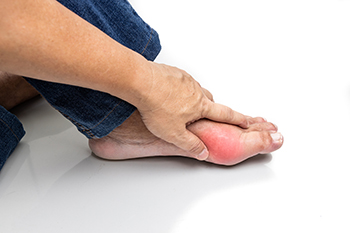 Gout is not only about discomfort. If not addressed, especially when it is ongoing, it can evolve into major health challenges over the years. There are formations called tophi, which essentially are hardened clusters of urate crystals. These can emerge in various areas, including the feet. Even though they might not always be painful, neglecting them can harm your bones, cartilage, and joints. With prolonged gout, individuals often experience regular joint inflammation. This consistent swelling, combined with tophi, can result in permanent joint alterations and rigidity. In extreme situations, surgical intervention might be necessary to rectify or even replace damaged joints. Additionally, gout raises the likelihood of kidney stone formation. This happens because urate crystals can accumulate in the urinary system. Over time, if these stones block your kidneys, it can lead to scarring and damage. There's a belief that this kind of kidney damage, if not treated, can progress to chronic kidney ailments. Moreover, the persistent pain due to chronic gout can be mentally taxing. It can hinder daily activities like walking and working, leading to emotional strain. If you have gout, it is strongly suggested that you make a n appointment with a podiatrist to get treatment for this painful affliction before it takes more of a toll on your body and mind.
Gout is a foot condition that requires certain treatment and care. If you are seeking treatment, contact one of our podiatrists from Suncoast Podiatry Associates. Our doctors will treat your foot and ankle needs.
What Is Gout?
Gout is a type of arthritis caused by a buildup of uric acid in the bloodstream. It often develops in the foot, especially the big toe area, although it can manifest in other parts of the body as well. Gout can make walking and standing very painful and is especially common in diabetics and the obese.
People typically get gout because of a poor diet. Genetic predisposition is also a factor. The children of parents who have had gout frequently have a chance of developing it themselves.
Gout can easily be identified by redness and inflammation of the big toe and the surrounding areas of the foot. Other symptoms include extreme fatigue, joint pain, and running high fevers. Sometimes corticosteroid drugs can be prescribed to treat gout, but the best way to combat this disease is to get more exercise and eat a better diet.
If you have any questions please feel free to contact our office located in Ocala, FL . We offer the newest diagnostic and treatment technologies for all your foot and ankle needs.
Read more about Everything You Need to Know About Gout